About Our Collars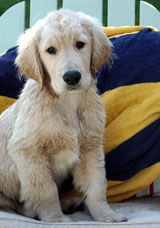 Antony uses prong collars in lieu of dangerous choke chains which can cause permanent damage to a dog's trachea. Prong collars allow you to gain and maintain control of your dog as you go through the training process with our trainer, and though they may appear intimidating, they are much safer than choke chains.
Sometimes it's hard for humans to understand that our best furry friends are canines - they aren't biologically or psychologically made up like we are. For instance, did you know that the sensory nerves in dogs' muscles are beneath the muscle, not on top like ours? That's why Fido likes a nice, hard scrub on his belly or a rough rub behind his ears. His nerves are buried beneath his muscle tissue, so it takes a rough touch for him to feel the effects of a scratch. In regards to prong collars, the prongs look fierce to humans, and they would probably hurt our sensitive topical nerve endings, but dogs are built differently. Prong collars have a different affect on dogs than you might think. They are safe and effective in training, and that's why Antony uses them.
About Antony
Civilized Canine is headed by Antony Williamson, a professional dog trainer with 16 years of experience and a lifetime of dog handling expertise. Antony grew up around German Shepherds and has three dogs, Stella, Gump and Vegas. He gained an appreciation of dog health during four years as a vet tech and has also worked with boarding and training facilities. Antony has been in private business for six years. Because of his passion for dogs, he participated in animal rescue efforts after Hurricane Katrina and is Vice-President of Operation Underdog.