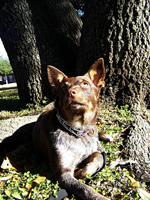 Dixie has a weekly home visit with a wonderful trainer (if you live in Dallas and need a great dog trainer, click here.) I canít say enough good things about Antony and the way he is helping us learn how to partner with our dog in becoming an extremely obedient animal. She learned "down" last night and it took her less than 30 minutes to do quite well on her own without intervention.
This morning, I took her for a long walk and we practiced a series of "sit" and "down" and "free". She did a great job!
I am now a huge advocate for 1:1 at-home training. I have seen remarkable results in her behavior (she still has her moments!), our behavior (we still have our moments!) and the overall tranquilty of our household. Obedient dog = calm owners = everybody is peaceful.
This testimonial came via this website yourdogtrainingnow.com
---
After bringing our new puppy Scooby home it did not take long to realize we were going to need some help. It also did not take us long to realize we did not know as much as we needed to know to properly raise a puppy. After researching different trainers for a couple of weeks, my husband found Antony. After meeting with Antony, we made the decision to use Civilized Canine. It turned out to be the best decision we could have made. Within the first week of training, Scooby was becoming a new dog. The potty problems we were having had almost ceased and his ability to pay attention was amazing for a 12 week old puppy. Scooby is now the best! Antony was so patient and went well beyond any expectations we initially had. He taught Scoobs everything he needed to know but more importantly taught our family everything we needed to know to help Scooby understand us. We are considering a friend for our Scooby and will use Civilized Canine again. Thank you Antony!
Lisa, Bill, Sarah, Brandon, Scooby L.
---
I met Antony while at our vet awaiting x-rays for our 6 month old lab, Boomer. Boomer liked to eat things he was not supposed to eat. This time our eight year olds GI Joe. Antony and Boomer seemed to connect right away. He really has a gift. We lucked out with Boomer that round and decided to call Antony to make sure we didnít make the trip again. Antony was very patient with both us and Boomer and worked with us on any requests we had for Boomer. Boomer is now a fantastic dog and Antony is a fantastic trainer. I would and do recommend him to anyone needing dog training. Thanks again Ant.
The Whitmans
---
I have the most well trained dog on earth!!! It is all because of Antony!!! We had our black lab for about 4 weeks and she was not behaving at all! She was chewing everything in sight and was not controllable on a leash. I was really getting frustrated with her and was not sure what to do! I had three kids that were 2, 4 and 6 and a crazy dog that did not obey. Then I was at a 7-11 and parked right next to Antony. His truck had a sign that he was a dog trainer. It was fate! I approached him and asked him for help. He came over the next day and within the hour he spent with Star she was a different dog! We continued our weekly lessons at home with Star and Antony. She is now the most amazing dog ever! I tell people that if she had some thumbs she could do the dishes for me!! She is that obedient and trained! Antony is the best trainer ever and is truly the Dallas area dog whisper!
Kim Kelley
---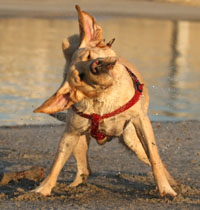 Civilized Canine has worked wonders for my dog Dakota and I. I'm an owner of a Pit bull and needed to make sure he had the proper training. Antony not only trained my dog and me but he also gave me a good understanding of a dogs mind. Dakota is now the well-behaved dog that I always knew he could be. It's also a plus that the training is done in the comforts of your own home. Thanks again Antony.
Joyce Hubler
---
I got my dog Petey at eight weeks of age. By three months, I was losing my mind. I knew from talking to other friends of mine with small breed dogs that the housebreaking was going to be a challenge. I had no idea!! I never anticipated that handling a puppy could be so difficult. That is when I contacted Civilized Canine.
When Antony makes his initial visit and assesses with your input what needs to be accomplished, he works with you to establish a training program that meets your needs and that of your pet. He is very understanding and a true professional.
Petey no longer has accidents in the house and has really developed into an amazing dog.
I am very certain that if you use the techniques that Antony proposes and follow his instructions you will be as pleased and happy as I am.
Sincerely,
Melissa R.
---
Hi Antony. I just wanted to drop you a quick email to thank you again for the fantastic job you did with Linus and Lucy. I never thought such a thing was possible. My family and I were on the verge of getting rid of those two before we called you and now we can look forward to many happy years truly enjoying them. You really made this all a very pleasant and easy experience. Thank you for everything.
Steven and Lisa B.
---
My husband and I have always had small dogs so when he told me he'd bought a Labrador Retriever I was really worried about how I would handle her. Anthony's in home training taught me how to train Maggie to respond to all commands - "sit", "come", "heel", and my favorite,"down". I can put her in a down position and she won't move until I tell her "free". I actually forgot about her once when we had guests and she was "down" for over an hour! Civilized Canine was an easy, fun and thoroughly enjoyable experience for Maggie and me.
Karen Rohde
---
We rescued our dog Pepper from a shelter when she was about six months old. Along with her came a slew of problems. Everything from severe housebreaking issues to some minor aggression issues. We immediately sought training to help us deal with the problems and try to understand why Pepper was the way she was. Eight weeks after enrolling her into a training program we had very little success with the problems. We were ready to give up!! That's when we found Civilized Canine. Antony brought a level of understanding like nothing we had experienced during our previous attempt at training. I am happy to say that Pepper is now the "civilized canine" we hoped we were getting that day at the shelter. Thank you again Antony. You are truly amazing!
Sincerely,
Robert, Kristen, and Pepper C.