In-Home Consultation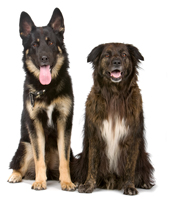 An initial one-hour consultation gives our trainer a chance to evaluate your dog in its everyday setting. Antony will assess your dog's interaction with family, as well as reactions to house guests. He'll review the dog's actions in various settings within and around the house and discuss behavior or aggression issues with you. Armed with his findings, Antony will create a custom profile and training program designed to transform your puppy into a civilized canine.
Six-week Distraction Program
Does your dog struggle with medium to low-level distraction problems in the home and yard? Does your dog need a refresher course to reinforce previous training? Our six-week distraction program will teach your dog commands and obedience skills such as:
Heel
Sit
Down
Stay (implied)
Come
Leash techniques
Name response
In addition, our trainer can help fine-tune problems such as digging, jumping, and housebreaking. Your dog will emerge calm, relaxed, and obedient. The six-week program is not designed for high-distraction scenarios such as public places and is not appropriate for puppies.
Ten-week Off-Leash Training Program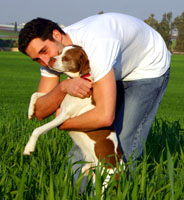 Does your untrained puppy need some manners? Want to teach an old dog new tricks? Our ten-week off-leash training program is perfect for dogs of any age. Stella the German Shepherd accompanies Antony on training visits to provide distractions that your dog should learn to consciously ignore. Stella will also help your pet learn to interact with other dogs. The ten-week course improves on the techniques offered in the six-week program, but with an off-leash focus that allows you to command your dog from a distance. It can also be tailored to develop a control system for dogs prone to biting, growling, and other aggressive behaviors.