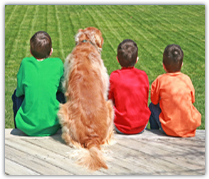 Wish you could take your frisky dog to finishing school? Let Civilized Canine turn your distracted dog into a polite pooch with cutting-edge obedience techniques taught in the comfort of your home. Whether your furry friend needs to learn verbal commands, leash training, or how to stop bad behaviors, professional dog trainer Antony Williamson can transform your playful pup into a civilized canine in six to ten lessons.
Civilized Canine's compulsive training techniques help you tune in to your dog's natural instincts. We'll teach you tools and tricks to tame even the wildest dog by tapping into your pet's instinctual need to please. Best of all, you and your pet will learn in a familiar home environment with an experienced trainer who tailors a program to your dog, your schedule, and your individual needs.
Testimonial
---
I have the most well trained dog on earth!!! It is all because of Antony!!! We had our black lab for about 4 weeks and she was not behaving at all! She was chewing everything in sight and was not controllable on a leash. I was really getting frustrated with her and was not sure what to do! I had three kids that were 2, 4 and 6 and a crazy dog that did not obey. Then I was at a 7-11 and parked right next to Antony. His truck had a sign that he was a dog trainer. It was fate! I approached him and asked him for help. He came over the next day and within the hour he spent with Star she was a different dog! We continued our weekly lessons at home with Star and Antony. She is now the most amazing dog ever! I tell people that if she had some thumbs she could do the dishes for me!! She is that obedient and trained! Antony is the best trainer ever and is truly the Dallas area dog whisper!
- Kim Kelley
---